Treatment court offers substance abuse help for Logan County parents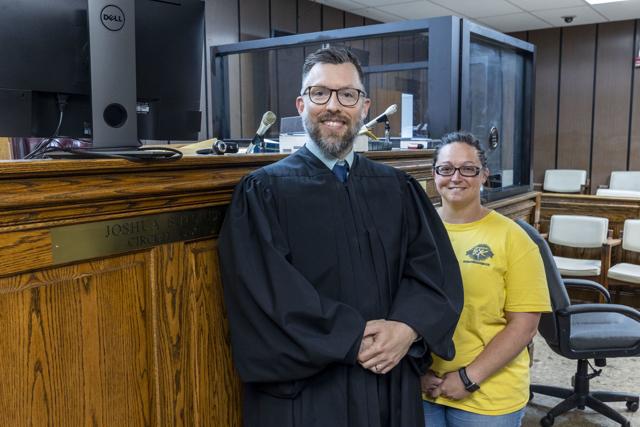 LOGAN — A treatment program that began as a pilot in three West Virginia counties, including neighboring Boone, is now offering services in Logan County as part of a recent expansion that included five more counties statewide.
Family treatment court was established in Logan County in October 2020 and provides parents with substance use disorders a new avenue for rehabilitation and regaining their parental rights. The program is a collaborative effort that includes the Logan Circuit Court, the Logan County Day Report Center, Child Protective Services, substance abuse providers, foster care and others.
Logan County's family treatment court got its first participant in January and is now up to nine. Twenty participants are allowed in the program at one time.
Participants must go through a rigorous, nine-month minimum process in which they must reach five milestones. Throughout their journey in the program, participants are consistently drug-screened, visited and checked on in other ways by officials who oversee their progress.
"It's a lot," said Logan County Circuit Judge Joshua Butcher, the judge overseeing the program and all of the county's neglect and abuse cases. "It's a lot that's expected of them, and it can be overwhelming because it's a lot to deal with. It's an intensive supervision program, and a lot of people who are struggling with the issues that bring them to court in these kind of cases need that intensive supervision. They need that structure in their lives and without it, they're far less likely to succeed."
Drug screenings take place a minimum of three times per week at first and gradually wind down as participants make their way through the program. Participants must maintain daily contact with Ashley Ranson, the court case coordinator for family treatment court.
Participants are required to take part in individual and group counseling, and some are required couples counseling in certain cases. If a participant does not have a job, they are required to complete community service, as well as Jobs and Hope West Virginia, a program established by Gov. Jim Justice and the Legislature.
"We also have them participate in Jobs and Hope West Virginia just so they can have more resources than what we are able to provide," Ranson said, "and then they can help with driver's licenses, further their education, give them more job opportunities available."
Read full article here:
https://www.wvgazettemail.com/news/southern_west_virginia/treatment-court-offers-substance-abuse-help-for-logan-county-parents/article_25e4cf87-4e50-5ae2-8013-de63d7a87715.html#utm_campaign=blox&utm_source=twitter&utm_medium=social